ez-sourcedocx
EDC meets eSource: Capture clinical trial data directly during the study visit for real-time, remote monitoring.
Capture eSource data directly during the participant visit for maximum study efficiency. Alpha Clinical Systems' ez-SourceDocx integrates with any third-party (EDC) solution to eliminate double data entry and source data verification (SDV). Fully-integrated, cloud-based, and compatible with any iOS or Android device.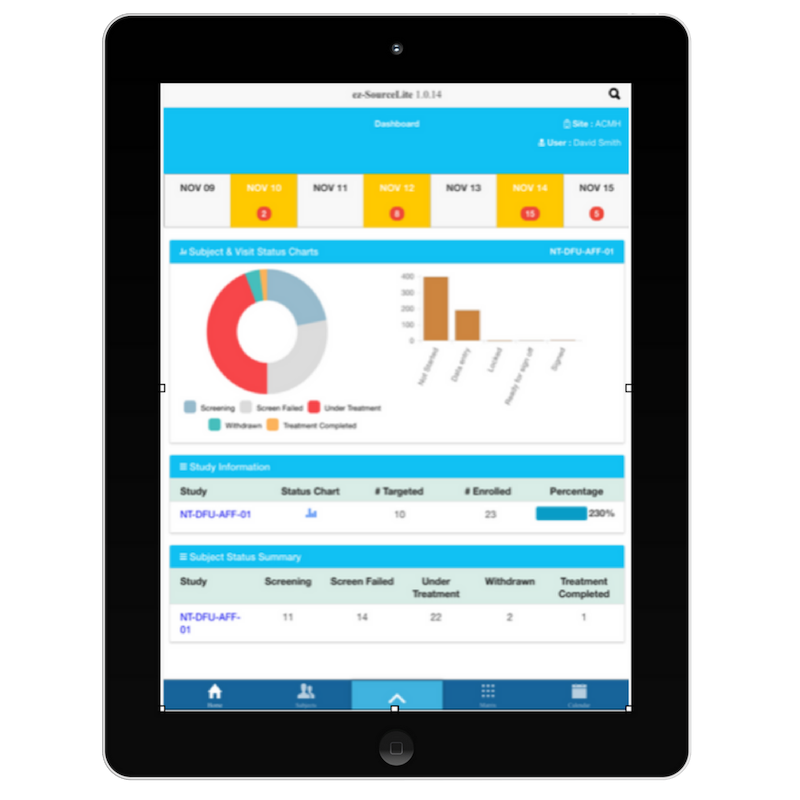 esource data in minutes, not months
Capture eSource data directly from any location for real-time, remote data access.
FEATURES & BENEFITS
Improve Study Efficiency, Data Quality
Eliminate SDV and transcription into EDC by capturing eSource data directly. Once captured, automatic edit and logic checks ensure data accuracy. Integrate with any third-party EDC for real time, remote monitoring and review. Designed with site users in mind, ez-SourceDocx streamlines workflows, reduces workload and ensures protocol execution by guiding sites through properly sequenced visit procedures and prompt quality investigator evaluation.


Integrate with ez-Consent, ez-PRO/COA & ez-DIMS
As part of the ACS360 platform, integrate ez-SourceDocx with ACS electronic informed consent (ez-Consent); electronic patient-reported outcomes & clinical outcomes assessments (ez-PRO/COA); and electronic drug inventory management (ez-DIMS). Truly paperless solutions that reduce clinical trial complexity for sites, sponsors and CROs.

FDA Endorsed eSource
The U.S. FDA endorses and promotes eSource for streamlining and modernizing clinical trials. ez-SourceDocx delivers all functionality outlined in the FDA's September 2013 eSource Guidance:
Eliminate unnecessary duplication of data, reduce transcription errors

Enter source data during subject visit

Facilitate remote monitoring of data, real-time access

Facilitate the collection of accurate and complete data